THE WORLD'S FIRST DIRECT-TO-CLOUD AREA GAS MONITOR
G7 EXO takes your area monitoring program to the next level with integrated cellular and satellite connectivity that seamlessly integrates every worker with every part of your facility. EXO is built to withstand anything you or mother nature can throw at it. With a strong rugged design, 100+ day battery life and cloud-connected technology for streamlined data collection and reporting, your entire team and worksite have never been this safe.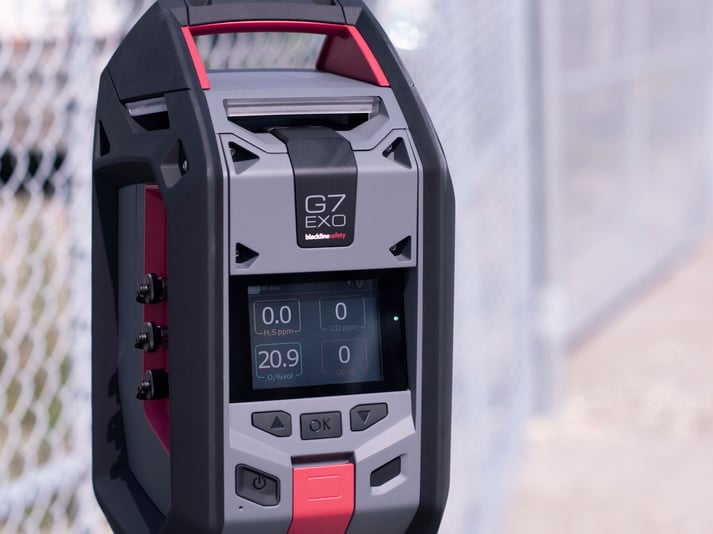 Complete integration of safety for your workers and worksite
G7 EXO works seamlessly with G7 wearable devices and can integrate into any existing safety program to deliver comprehensive, robust area monitoring as part of a larger connected ecosystem.
G7 EXO solves the challenges of continuous toxic and combustible gas monitoring for sites, facilities and fence lines in a single, easy-to-use platform. Automating long-term area monitoring and connected safety for streamlined efficiency, G7 EXO allows teams to focus on their work at hand.
Key features
Deployment Magic — Just place it where you want, push "setup wizard" and G7 EXO does the rest. Leveraging integrated connectivity, EXO's direct-to-cloud capability makes updates and data collection automatic and hassle-free.
Unlimited Connectivity — Unlike the competition, each G7 EXO connects directly to the cloud so there are no range limits between monitors or a maximum number of devices allowed on the network. EXO comes with integrated cellular connectivity supported in over 100 countries, with available remote global coverage through an optional satellite module.
Longest-Lasting Battery Life in the Industry — EXO works harder and longer than the competition. You'll get 100 days of continuous run time with a four-gas cartridge, including continuous cloud connectivity. Leave it for months without wasting valuable time changing batteries, and with an intrinsically safe charge cord or solar panel, you can keep EXO running virtually forever.
Versatile Customization and Integration — Two configurable output ports make it easy to integrate EXO into existing safety and control systems. EXO gives you versatile power options with 100-day battery, charge cord or solar panel, and integrates into your system at the systems or cloud level.
Built For the Real World — With a tough, aluminum frame and rubber bumpers, EXO keeps working no matter what you or Mother Nature put it through. It's designed for everyday wear and tear for workers on the go, so you can leave it outside and your worries behind.
Empowered data analytics
G7 EXO works alongside employees equipped with G7 wearable monitors. Both systems continuously stream location and gas reading data to the Blackline Safety Cloud, providing a full situational overview of a business' workforce and facility or disaster response location.
For the first time ever, businesses are provided with situational awareness throughout every area of their facility. See exactly where and when employees entered a zone, which gases they were exposed to and the duration of  the exposure. Instead of manually compiling data to get an idea of teams' activities, G7 EXO automates your safety program, delivering more insights than ever before.
DOWNLOAD OUR G7 EXO BROCHURE